St Pancras by Searcys is a brasserie and champagne bar, located in the very heart of London. Located on the Grand Terrace, Upper Concourse at St Pancras International Station, the champagne bar overlooks this iconic station making it the perfect place for people watching, conversation and some bubbly! Cosy leather booths seat six of your nearest and dearest, and a 'Press for Champagne' button means your glass will never run out! The brasserie is inspired by the golden age of travel with 20s themed decor, and the sound of trains underneath your feet will take you back to a simpler time, giving you a place to unwind before embarking on your journey.
Private Hire
If you're celebrating a special occasion you can hire out the champagne bar for private functions. This grand space offers space for 180 dinner guests, or 400 standing. The restaurant itself transforms into a seriously stunning wedding reception venue that will be the envy of all of your guests.
The brasserie can seat up to 150 dinner guests, or 250 for a standing reception. Both spaces are beautiful and completely unique to each other so you can choose whichever suits you and your style more.
St Pancras By Searcys offer bespoke packages to suit whatever your needs are, or you can choose from the mouth-watering seasonal delights they offer. For a wedding venue, it doesn't get much better than this – classy and elegant, beautiful food and drink, and a one-of-a-kind setting.
If you're planning a wedding, but aren't sure where to book your reception then St Pancras by Searcys is a serious contender. Imagine celebrating your marriage above one of the world's most famous train stations, with roaring 20s inspired decor all around you. St Pancras by Searcys will take care of the whole event, from start to finish – all you need to do is enjoy yourself!
Wedding Ceremonies
This super venue is also licensed to perform wedding ceremonies, so if you're thinking of having a civil ceremony, but aren't sure where to go then consider St Pancras By Searcys for this too! It will make the day so much easier as everything will be in one place, organised by the same people, and all done with you in mind.
Your wedding ceremony will be held on the Grand Terrace, overlooking St Pancras International, bathed in natural light, directly under the intricate display of the Barlow Shed – a truly unique spot.
After the glorious ceremony, you can head over to the bar to welcome your guests with a decadent champagne fountain – really wowing your guests. Then for the wedding breakfast you can head to the brasserie where you and all your guests will be treated like royalty, with excellent table service, a fully equipped bar, and exquisite food.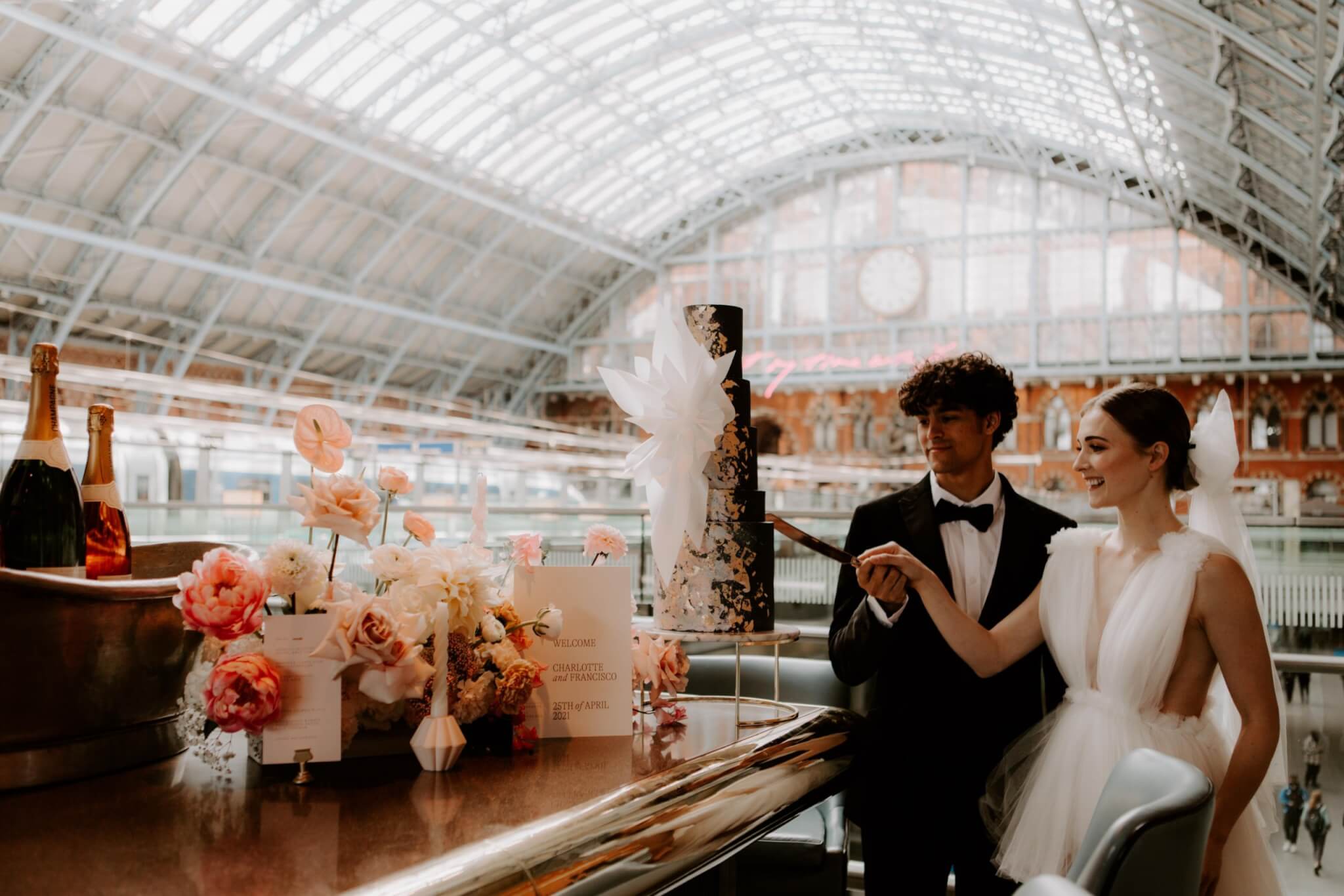 For anyone looking for a stunning City Venue with (easy access to just about anywhere) to hold their celebrations, don't hesitate to get in touch with Penelope and her wonderful team, who would be more than happy to provide you with a bespoke offer and assist you with the planning of your special day! You can also download a copy of their Wedding Brochure here: https://stpancrasbysearcys.co.uk/private-events/weddings/